Process
Your Bathroom Remodeled in Just a Few Days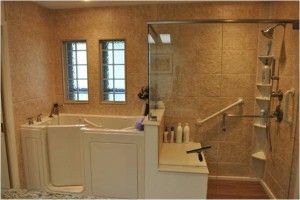 Re-Bath offers a quick and affordable solution to out of date or deteriorated bathtubs, shower pans, or bathroom wall surfaces. Remodel your bathroom in days not weeks!


Using state-of-the-art materials in a variety of styles and colors combined with a patented No Leak installation process our factory trained technicians can transform these fixtures into an attractive, durable and easily maintained foundation of your bathroom decor.


Re-Bath uses its patented Durabath SSP shower bases and tubs to fit perfectly in your existing tub or shower enclosure. Durabath SSP is a specially engineered building product by Spartech, manufactured and sold exclusively through Re-Bath Dealers nationwide. It combines the highest impact strength with sparkling clarity. It is suited for rigidized components in demanding structural applications that require long-lasting endurance. Durabath SSP is far superior to any other competitive products and excels in fabrication performance.
Our Business
Re-Bath of Travis County is an authorized dealer for Re-Bath Corp of Mesa, Arizona.
We're in the bathroom business. It's the only type of remodeling we do. We have designed a process that makes remodeling your bathroom economical, straightforward and stress free. Our staff is here to help you every step of the way. They deliver professional and courteous service. Our craftsmen are factory trained employees-not subcontractors.
Our Process
1. Call us at 512-836-7200. A bathroom designer will arrange an appointment to come to your home and review all of the possibilities and options. Your free estimate will give a budget range for the work you wish to have done. There is never any pressure.


2. When you decide to move ahead, together with a consultant, you will make specific product choices for the design of your new bathroom. After you have made your choices, the consultant will give you a firm price.


3. As soon as you are ready, we will place the order for your new bathroom. When your materials arrive (usually 4-6 weeks), your bathroom will be installed in a few days. Some remodels are completed in one day! We never forget that it is your home. For a bathroom remodeling experience that sets a new standard, choose Re-Bath. You'll love the results.